Benefits of Exhibiting/ Classified List of Exhibits
The exhibition is the largest fire and safety exhibition in Japan.
The exhibition brings together foreign and domestic companies with common interests under one roof
(in 2013, 267 companies/organizations and 1,322 booths).
The largest event held once every five years, it showcases the latest products and services.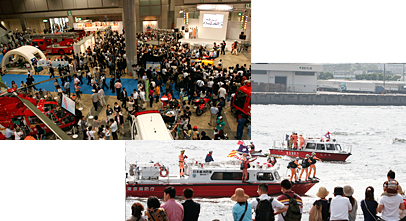 The event enjoys a wide range of visitors, from government agencies and corporations to end users.
A great many visitors include fire officials, fire fighters, and end users.
The exhibition showcases solution-oriented products and services for urgent issues directly to audiences showing a high interest.
The 30th IFCAA General Conference will be concurrently held.
The General Conference of International Fire Chiefs' Association of Asia(IFCAA) and General Conference of Fire Chiefs' Association of Japan will be concurrently held. Professional people are attracted by their conferences.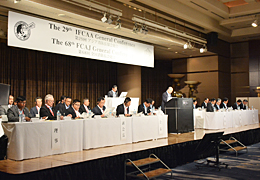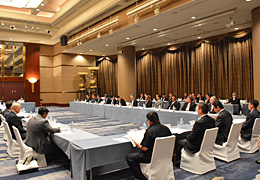 Classified List of Exhibits
A
Fire Extinguishing / Ambulance Service / Rescue / Evacuation Systems
① Fire Extinguishing / Fire Prevention
Fire Vehicle and Fireboat
Pumpers, Foam Trucks, Aerial Ladders, Special Apparatus, Fireboats, Helicopters, Sirens, Red Lights etc.
Fire Alarm Systems
Automatic Fire Detection Systems, Arsonist Surveillance Equipment, Residential Fire Alarms/Smoke Detectors etc.
Fire Protection Equipments
Fire Hydrants, Portable Pumps, Fire Extinguishers, Fire Extinguishing Robots, Sprinkler Systems, Fire Cisterns etc.
Fire Hoses/Water Application Tools
Fire Hoses, Water Application/Draft Tools, Maintenance Supplies etc.
Fire Resistive Materials/Fireproof (Fire-resistant) Products
Noninflammable Material, Fireproof Material, Heat-resistant Fireproofing Shutters, Bedclothes, curtain etc.Material, Fire-prevention Material,Fire Prevention and
② Ambulance Services
Ambulance Vehicles
Ambulance Vehicles, Highstandard Ambulance Vehicles, medical helicopter etc.
First-aid Tools/Infection Prevention Equipments
Equipment for Patient Observations, Breathings And Circulation Aids, AED, Wound Protections, Infection Prevention Equipments, Equipment for Warmth Maintenances and Patient Conveyances, Equipment for Disaster Medical Assistance Team (DMAT) etc.
③ Rescue
Rescue Trucks, Rescue Vehicles/Rescue boat
Rescue Equipments
Forcible Entry Tool, Rescue Tools, Floodlights, Lightning Equipments etc.
Highly Sophisticated Rescue Equipments
Rescue Robots, Detectors, night vision equipment, Analysis and measurement equipment (radioactivity, chemical substances, toxic gas), Power Assist Wear etc.
④ Evacuation Systems
Reporting System, Broadcast Equipments
Emergency Reporting System, Broadcast Equipments, Emergency Alarms etc.
Evacuation/Guide Equipment, Exit Marking
Escape Ladders and Stairs, Descending Devices, Exit Route Light and Exit Route Marking, Emergency Lighting Equipments etc.
⑤ Personal Protective Gears
Uniform and Workclothes
Uniform and Workclothes For The Department Members, Uniform For Volunteer Fire Corps Members, Working Clothes For Rescuers etc.
Special Apparatus
Fire Fighting Uniform, Heat Protective Clothes, Protective Clothes, Fire boots, Helmets, Life Belts, Gloves etc.
⑥
Other Products and Services Associated with Fire Extinguishing,
Ambulance Service, and Rescue, Evacuation Systems
B
Disaster Countermeasures
① Earthquake/Tsunami Countermeasures
Base isolation/Earthquake-proof/seismic control Technologies, Products
Base-isolating Devices, Seismic Control Structures, Anti-seismic diagnoses, Anti-seismic Plumbing, seismic control technology/ construction methods etc.
Furniture Holding Articles, Functional Glasses, Glass Broken Protection
Equipment for Tsunami Protection
Breakwaters, Coastal Levees Tsunami Shelter, Tsunami Evacuation Marking etc.
② Measures against Storm and Flood Damage
Flood Control Equipment
Drainage Equipments, Sandbags, Sandbag-Making Machines, Life Boats, Life Jackets, snow removal machines etc.
Equipment for Landslide Disaster Control
Retaining Walls, Rockfall Fences etc.
③ Water / Drink Supply
Drinking Water/Preserved Water, Water Purification Devices, Water Tanks
Disaster Relief Bending Machine
④ Food Supply
Emergency Provisions
Emergency Food, Preserved Food, Cooked and Dry Packed Rice for Preserved Food, Rice Gruel, Canned/Bottled/Boil-in-the-Bag Food, Canned Bread
Cookware/Fuel
⑤ Lifeline Ensuring
Electricity/Gas Supply/Life Safety
Generators, Storage Batteries, Emergency Power Supply, Lightning Protection Equipments, Gas Supply Technology, Safety Devices For Cookware, Hot Water Supply System etc.
Temporary Toilet, Portable Toilet
Warehouse for Emergency Supplies
Evacuation Site Products
Tents, Prefabricated Facilities, Portable Beds, Portable Partition (Wall) etc.
⑥ Lifestyle Maintenance/Restoration
Daily Life Supplies
Bedclothes, Disinfections, Deodorant, First Aid Equipment etc.
Disaster Kit
Emergency Packs, Assistance Tools for Traveling Home etc.
Insurance
Disaster compensation insurance, etc.
⑦
NBCR Disaster Preparedness, Emerging Infectious Disease Control,
Disaster Preparedness for Industrial Facilities
Equipments and Products for NBCR, Emerging Infectious Disease
X Ray Inspection Devices, Liquid Items Inspection Devices, Hazardous Materials Inspection Devices,
Decontamination Agents/Equipments, Thermography etc.
Hazardous Materials Facilities/Gas Station Safety Technology, Safety Management
Anti-depletion Technology etc.
⑧ Industrial Accidents
Industrial Accidents Prevention apparatus
Safety Belts, Holiding Articles, Dust Masks, Goggles, Anti-static Tools etc.
Industrial Safety and Hygiene Management Systems
⑨ Robots & Drones for Disaster Measures
⑩ Other Technologies, Products, and Services Associated with Disaster Countermeasures
C
Information Systems / Communication Services
① Disaster Information System
Information and Communication Systems
Total Disaster Prevention Systems, Command and Control Systems, Emergency Medical Care Information Systems, Disaster Information and Communication System etc.
Simulation Programme, Information Managements
Damage Estimation Programme, Geographic Information Systems (GIS),
Global Positioning Systems (GPS) for Safety etc.
② Hazard Information Announcement / Collection
Products and Services for Early Warning (Earthquakes, Tsunami, and Other Information about Disaster and Evacuation)
Early Earthquake Warning Receivers and Display Devices, Early Warning Delivery Service etc.
Emergency Communication, Safety Confirmation Systems
Radios / Wireless Communication for Administrative Disaster Control, Satellite Communication,
Safety Confirmation Systems etc.
Surveillance/Transmission Devices, Observation/Measuring Instrument, Sensor
Surveillance cameras, Remote Surveillance and Image Transmission Equipments, Seismometers, Earthquake Finders, Atmospheric Pressure Finders, Rainfall Finders, Water Level Finders, Anemometers, Landslide Monitoring Devices etc.
③ Services / Consulting
Weather Information Services, Disaster Information Services
Assistance for BCP/BCM, Consulting
Data Backup/Recovery Services
Publishing
④ Other Information and Communication Products / Services
D
Other Products and Services Associated with Fighting and Disaster Control-Fire